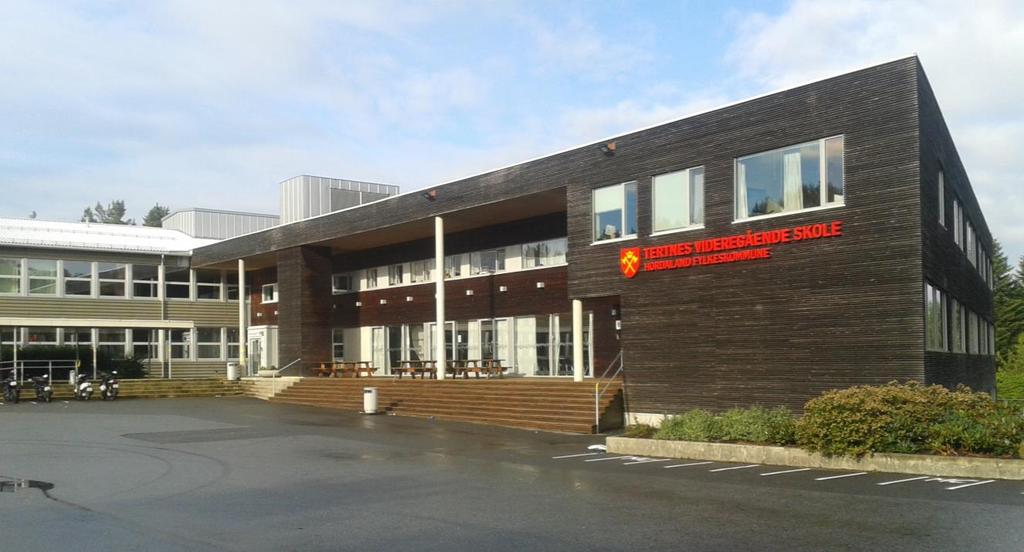 Tertnes videregaaende skole is an upper secondary school situated 10 kilometers North of Bergen city center, in the large suburb of Aasane. We are mainly a school for general studies, but we also offer vocational studies within Service and transportation. We currently have approx 400 pupils, 350 of them within general studies.
The age span is 16-18. The staff consists of approx 55 persons, 40 of them teachers. Within general studies all pupils do two years of second foreign language learning, and our school offers German, French, Spanish, and Italian. In August 2018 the school will merge with another upper secondary school in the area, and the number of pupils will increase to more than 700. Our school is known for sports studies, and we have one class per year, 90 pupils in total, who are selected among the best young athletes in the country. For three years with us they are allowed to combine their studies and sporting careers. Internationalisation is an integral part of our school's strategy, and although we have several ongoing activitities inside and outside Erasmus+, our ambition is to increase the activity level within internationalisation. We find it both natural and necessary to educate young people in a European perspective, and we find it important to provide pupils with international experience, and also to provide information about future opportunities within education and profession.
Within our vocational studies, we have a KA1-activity where some of our students carry out their compulsory 2nd year work practice abroad, as they spend three weeks in London. We currently take part in the K219-project MIGRANT, along with partners from France, Turkey, Italy, Greece, and Poland.
This project ends in the summer of 2018. The percentage of young people leaving school is relatively high in Norway, compared to other European countries, and our school is no exception. One main motivation to join this project is to provide knowledge and activities that will encourage pupils to complete their education. Head of Department, John Fleten, will be in charge of running the project. Other key people will be teachers within relevant subjects, several of them have experience from international projects, currently and in the past.
Our international activity is also well rooted in our administration. In the unlikely case of key persons leaving their post during the project, the school will have small problems finding replacements. We have high competence in foreign language teaching, and we also have had a strong emphasis on science subjects in recent years. Our teachers within subjects such as Marketing and Economics have good contacts in the line of businesses such as aquaculture and tourism, and these contacts might be useful in this coming projects. In our current project MIGRANT we have created the website and are responsible for running it.